Manage Chronic Fatigue Online at MEDvidi
You Are Not Powerless Against Chronic Fatigue
And You Don't Have to Fight It Alone
With the right support, you can improve your symptoms.
To know how to treat chronic fatigue in your particular case, talk to a licensed doctor online.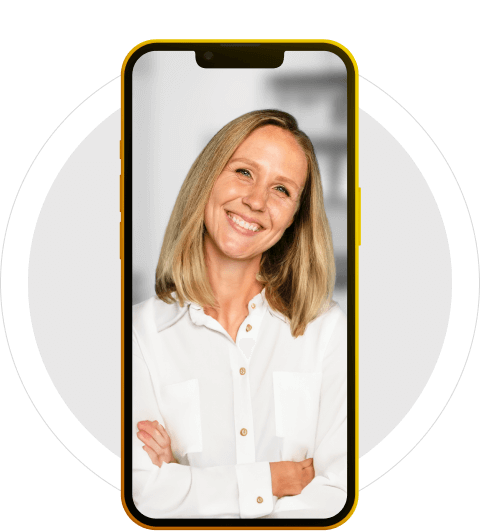 Your Best Treatment for Chronic Fatigue
We know that you are not just tired but need help
Myalgic encephalomyelitis (chronic fatigue syndrome) is a complex disease.
While there is no specific cure for it, there are ways to ease your exhaustion.
For chronic fatigue syndrome, holistic treatment is our choice
We will help you identify the most disruptive and debilitating symptoms and develop a personalized plan to deal with them.
Feel Better. One Step at a Time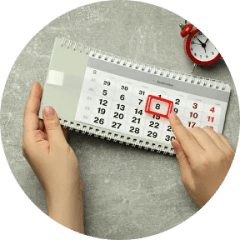 1. Free Online Assessment
Start chronic fatigue treatment with a free online assessment using SmartCare. Receive the result of your online screening immediately!
See a doctor online and go through an evaluation of your symptoms and health history.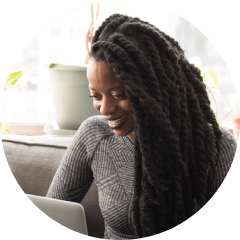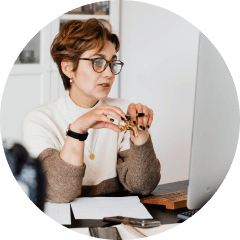 Get the most effective treatment for chronic fatigue syndrome and follow the guidelines precisely.
Focusing on mental health care, we help patients overcome depression, stress, anxiety, or insomnia resulting from chronic fatigue syndrome.
Get individual treatment for chronic fatigue disorder at MEDvidi
Integrative treatment methods
A variety of date and time slots
Chances of same-day appointments
Medications prescribed online
Achieve the desired relief from mental health symptoms of ME/CFS.
MEDvidi doctors can also suggest taking additional tests (blood tests, urine tests, etc.) and visiting particular doctors to get help for physical symptoms
Get chronic fatigue help at MEDvidi today!
Currently, there is no specific FDA-approved chronic fatigue syndrome treatment, and this condition cannot be fully cured. However, patients may manage some symptoms using the following techniques:
Pacing (managing the amount and intensity of activity)
Methods for dealing with post-exertional malaise (PEM)
Mastering healthy sleep habits and balanced chronic fatigue treatment diet
Treating secondary mental health conditions (depression, anxiety, insomnia)
Learning pain management techniques
In some cases, medication management, massage, or breathing exercises are recommended too. Generally, the best treatment for chronic fatigue is the one chosen according to your symptoms.
At MEDvidi, we can treat mental health issues developed because of ME/CFS. These involve the use of medications and psychotherapy to treat insomnia, depression, anxiety, and stress if they occur because of ME/CFS. For other interventions, our doctors will recommend seeing doctors specializing in your symptoms.
To make a chronic fatigue syndrome diagnosis, our doctors will first review:
During the initial appointment, a chronic fatigue syndrome specialist can also provide: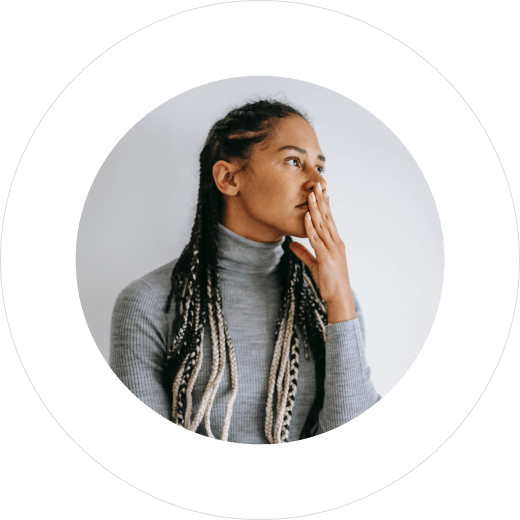 What is a SmartCare symptoms checker?
It is an evidence-based online screening tool. It includes science-backed questions and shows the results immediately after the completion.
Before you see the doctor online, complete a chronic fatigue syndrome test online.
Main Symptoms of Chronic Fatigue Syndrome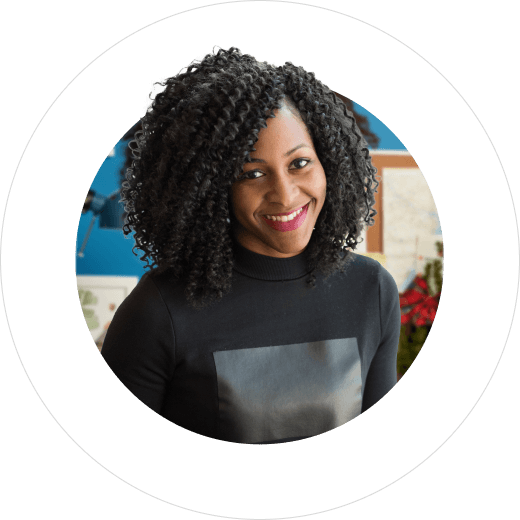 How ME/CFS May Influence Your Life?
The signs of chronic fatigue include both physical and mental ones. If left untreated, the symptoms may worsen and make it impossible for a person to handle even the simplest tasks. In severe cases, patients can be confined to bed for weeks or months at a time.
ME/CFS requires constant monitoring of the symptoms and your state, and setting up appropriate routines and activity schedules. And this is where we can help you.
Book an appointment to get recommendations from a chronic fatigue syndrome doctor and make your life with CFS less exhaustive.
Start with taking a chronic fatigue test online
Personal Touch — A Priority for CFS Patients
There are no specific ME/CFS treatment guidelines, so the plan is always developed according to one's state.
MEDvidi doctors may recommend different chronic fatigue syndrome treatment options: medications, therapy, and counseling. They may also consult you on building strong routines and being mindful of your well-being.
We Can Help to Deal with the Mental Symptoms of CFS:
We only use treatment options with proven effectiveness.
Contact our specialists to receive appropriate medicine and treatment roadmap and learn useful coping techniques.
How We Create Personalized Treatment Programs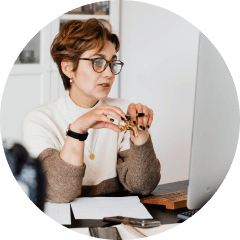 During the initial visit, the doctor examines your symptoms, health history, external factors that may cause the condition, and your family health history. Note that one session may not be enough to determine whether you have ME/CFS.
The primary step is identifying the most severe and draining symptoms to work on them first. You will also discuss all the pros and cons of the treatment and adapt it as far as possible to your desired lifestyle.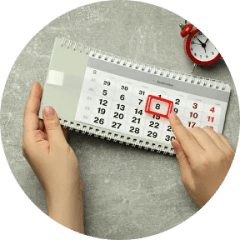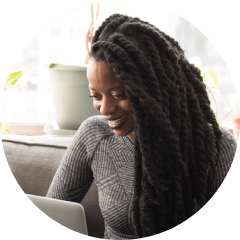 Adhere to the chronic fatigue syndrome treatment guidelines given by your doctor and attend online follow-up appointments. Hence you can monitor your progress, adjust treatment, and get your questions and concerns answered.
Contact the MEDvidi doctors to learn more about CFS symptoms and treatment. Hundreds of our patients have already achieved significant results, this is what they say:

Wow, what a great experience. Dr Gionis is caring and attentive. He took the time to listen to my concern/request and work with me to create a plan.
Wish I could give 6 stars!
Date of experience: June 30, 2023

They really do go above and beyond to help clients. You can do a telehealth visit right over the phone or video call for anxiety meds the very same day. In this day in age, that is major. I was skeptical at first so i called the customer service department to see if it was a legit company and it is.
I paid, set up my appointment, spoke to a doctor and received my medication within a couple of hours.
Date of experience: May 16, 2023
Online Therapy for Chronic Fatigue Syndrome
ME/CFS is not a mental health disorder, but dealing with it requires mental strength.
This is where online chronic fatigue doctors come to the aid.
ME/CFS is often linked with depression, anxiety, stress, insomnia, and other mental and emotional conditions. Here, you will get mental health support and know how to better deal with the new reality changed because of chronic fatigue.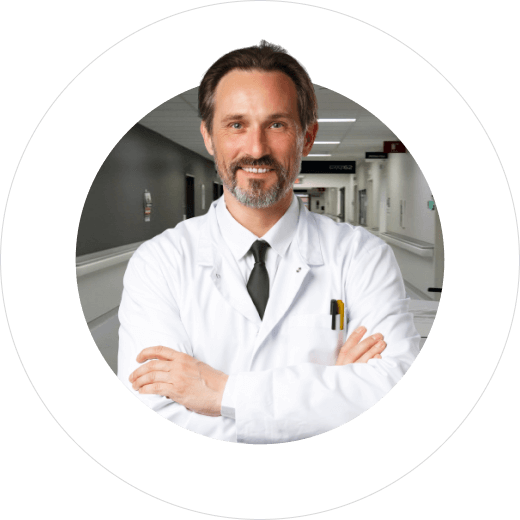 The Best Types of Therapy for Chronic Fatigue Treatment
Cognitive-Behavioral Therapy (CBT)
Cognitive-behavioral therapy for chronic fatigue syndrome is a common choice. It emphasizes thinking, emotional, and behavioral patterns related to living with the CFS symptoms. It also helps to better deal with pain, worry less about the symptoms, and cope with anxiety, depression, or stress. Note that your therapist should have experience working with ME/CFS patients so as not to offer the methods that would increase your symptoms.
Graded Exercise Therapy (GET)
GET is physical therapy for chronic fatigue syndrome. A therapist helps to determine the level of activity that makes the patient feel better. Then, the amount of activity may be increased according to progress in symptoms, growth of energy levels, and willingness to make such changes. Several studies proved GET to be safe and effective. However, it is not suitable for everyone and might be replaced with other treatment methods if there are no positive dynamics.
Chronic fatigue therapy aims to help one eliminate certain symptoms of ME/CFS, especially the mental health effects of the condition. It helps one cope with the day-to-day challenges they experience because of chronic fatigue. In addition, anxiety, depression, or insomnia may develop because of this disorder; psychotherapy will help to alleviate their impact on the patient's well-being.
Since the symptoms may differ, there is no standard first-line chronic fatigue help. Depending on your physical and mental state, the doctor will choose treatment options suitable for your particular situation. These may include medications, counseling, psychotherapy, rehabilitation therapy, personalized adaptive pacing programs, adding nutritional supplements, and others.
Medications for Chronic Fatigue
As there are no FDA-approved chronic fatigue syndrome medications, doctors may recommend over-the-counter and prescription drugs to help one manage their symptoms.
Depression is a frequent consequence of chronic fatigue syndrome and can worsen its symptoms. Talk therapy and antidepressants are common treatment options.
Stress and anxiety aggravate ME/CFS symptoms. To eliminate these secondary conditions, therapy, antidepressants, benzodiazepines, or other drugs can be recommended.
Muscle and joint pains are treated using over-the-counter pain relievers or stronger prescription drugs.
A better night's sleep may result in improved ME/CFS symptoms. This is done by setting up sleep habits and taking over-the-counter or prescription sleeping medications.
Dizziness because of orthostatic intolerance is treated using medications, such as anticholinergics, antihistamines, etc.
ADHD medications such as stimulants in low doses may be prescribed to help one deal with memory and concentration troubles.
Contact online doctors at MEDvidi to get the best medication for chronic fatigue prescribed.
Advantages of Getting Prescriptions Online
No long lines and waiting hours—everything is done from the comfort of your home.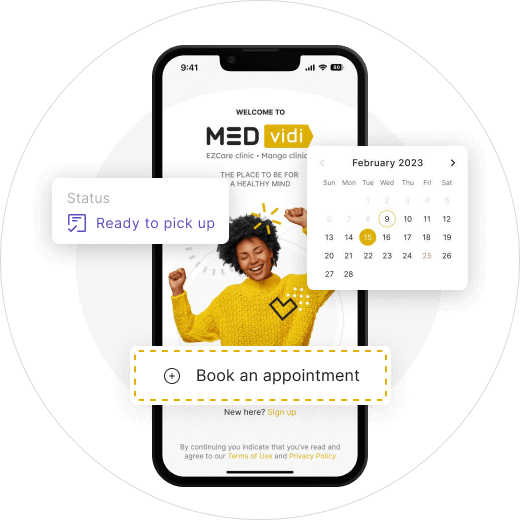 Myalgic encephalomyelitis or chronic fatigue syndrome is a complex disease. It cannot be self-diagnosed and requires proper monitoring by a doctor. However, it is not superfluous to learn more about this condition, its symptoms, and treatment options from legitimate sources.
Learn more about chronic fatigue syndrome in our blog
Your Exhaustion Can Be Eased
Collaborating closely with the doctor and sticking to the given guidelines will do wonders for your well-being.
We will help you understand how to live with this illness and cope with its severe symptoms.
Click to receive a personalized treatment plan