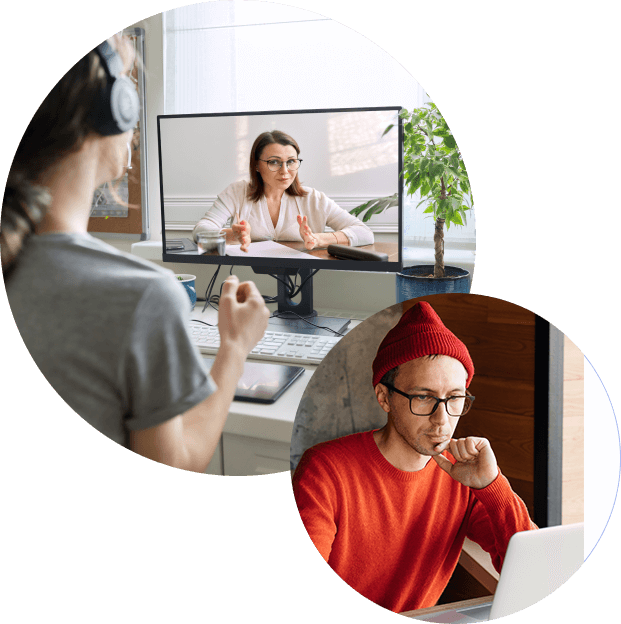 Online Anxiety Assessment
Anxiety is a recognized medical condition that is further divided into the following types:
The debilitating feelings of anxiety are understandable. People might be living with any of the above-listed kinds of anxiety disorders even without noticing. There are also examples of anxiety disorders running in families hence becoming a new normal for its members.
However, if anxiety occurs often and affects your day-to-day life, you notice sudden peaks of intense fear, or you start avoiding situations or actions because of social phobia, it's suggested to attend in-person or online therapy for anxiety. Ignoring such signs and symptoms may even lead to long-term chronic issues and, sometimes, disability.
Any type of anxiety disorder, including panic disorder, agoraphobia, and many others, can only be accurately diagnosed with professional help. Begin with MEDvidi's quick and convenient online anxiety assessment. It will give our mental health experts general insights into your mental health status to devise the best treatment for anxiety in your particular case.
Complete an initial screening questionnaire and set up a consultation with a mental health professional.
Online Anxiety Assessment at MEDvidi: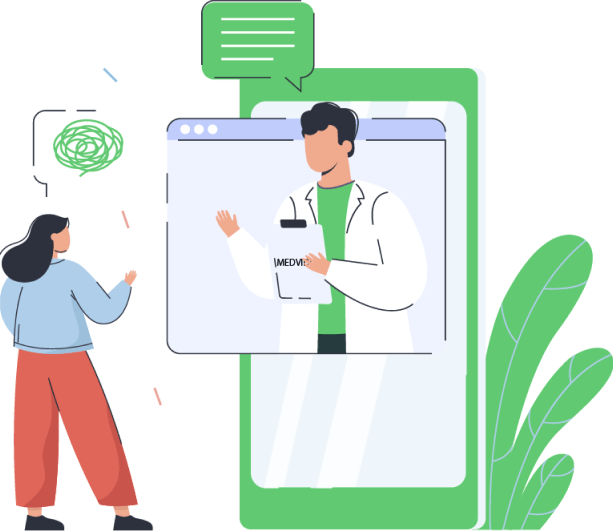 Health Anxiety Treatment Plan at MEDvidi:

To diagnose anxiety disorders, our mental
health professional will assess signs and symptoms
of anxiety, panic attacks, specific phobias, etc. in an
online video call and ask questions about their effects
on your daily life. They will help you set up the objectives
of treatment and devise the most suitable types of treatment for anxiety based on the data provided and
the final diagnosis.

We at MEDvidi online clinic incorporate
short-term and continued psychotherapies
(e,g., cognitive-behavioral therapy (CBT), exposure
therapy, etc.) to help anxiety symptoms, work on
self-consciousness, and improve your well-being in
the best possible way using communication
techniques. Psychotherapies are backed by
extensive literature and proven positive outcomes
in treating health anxiety. Often, attending support
groups is recommended after completing individual therapy to become calmer in a community of
people with the same issues.

Online anxiety help may also include counseling
sessions. They help people identify their goals, learn
the best coping mechanisms to manage stress
themselves, and know how to resolve conflicts
efficiently. The counselors also teach patients to
gain control over their symptoms, anxiety effects
on social life and careers, and more. Usually,
the course takes several weeks.

Stress management techniques:
For panic disorder, available anxiety disorders
treatment strategies may also involve stress
management tips. A therapist usually suggests
meditation, mindfulness, deep breathing exercises,
and other relevant training. These techniques
help balance one's mood, lower distress, prevent
the feeling of losing control, and stop negative
thought cycles and procrastination.

Our MDs experienced in psychiatry may authorize
online prescriptions if they determine that medication
is necessary to control the anxiety levels and symptoms intensity. Our mental health professionals will prescribe
the most suitable drugs to accelerate recovery and
choose alternative meds instantly if you experience
side effects. At MEDvidi, you can get a prescription in
hours due to the high availability of prescribers.
Your state and the treatment performance will
be monitored during the follow-up sessions.

Our certified mental health professionals at MEDvidi
know how important it is to work on overall health
and lifestyle to create a foundation for the prevention
of the symptoms in the future. That is why we use an integrative approach concentrating on a combination
of therapy, medications, and lifestyle changes. Our
experts will also provide the best dietary modification advice such as caffeine reduction, exercise instructions,
and meditation techniques to incorporate a healthier lifestyle for better overall physical and mental health.
Cognitive Behavioral Therapy Social
Anxiety Online
Getting nervous and jittery in certain social situations, when changing a job, performing in public, or after reading disturbing news is normal, but social anxiety never ceases for some individuals. The main association with this condition is unexpectedly raised stress levels, heart palpitations, due to the fear of getting into social settings and having social interactions.
Usually, the symptoms get so daunting that it becomes impossible for a person to have normal conversations or meetings with other people, and the fear of scrutiny might give them panic attacks. A person with a social phobia may exhibit the following signs and symptoms:
Physical symptoms of social anxiety:
Psychological symptoms of social anxiety:
How cognitive-behavioral therapy works to treat social anxiety:
Having social phobia or other anxiety disorders, people often face a lot of stigma of being shy and introverted. But it is a severe psychological condition that requires professional diagnosis and treatment.
Currently, cognitive-behavioral therapy is among the best therapeutic interventions used to treat different disorders: generalized anxiety disorder, social anxiety, phobias, etc. MEDvidi offers the service of creating an effective evidence-based CBT program to tackle the particular needs of patients. It is flexible enough to be adjusted to one's needs and can be accessed from anywhere due to MEDvidi's online mental health services. However, it is not the best choice for emergency or crisis situations or urgent suicide prevention because these cases require more serious help.
CBT provided in our online mental health center can be used for long-term treatment for generalized anxiety disorder. It serves as a mental lifeline and helps our clients notice the link between feelings, thoughts, beliefs, and deviant behaviors based on psychological facts. In a CBT session, negative and irrational thoughts are challenged and replaced with a beneficial and logical thought cycle. In addition, we offer information on self-help tips to ensure continued social anxiety disorder home treatment so that our clients can learn to manage their symptoms throughout the day.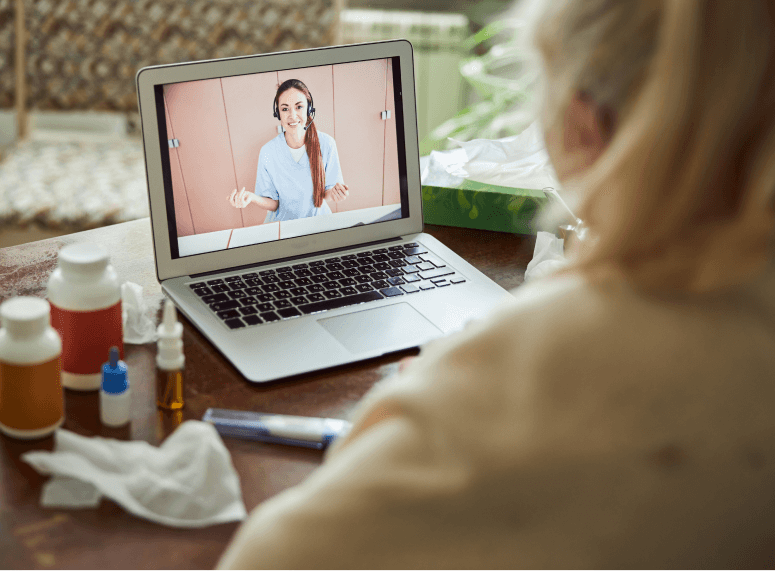 Prescription Anxiety Medication Online
There are various methods to treat anxiety disorders. Still, most of the time, chronic anxiety requires specified treatment options such as pharmacological treatment for generalized anxiety disorder. Untreated anxiety disorders can even lead to a disability. Hence getting professional help apart from peer support is crucial to managing the symptoms as soon as possible.
Count on MEDvidi for getting an online prescription via the Internet quickly and easily. Connect with our board-certified mental health professionals and discuss any signs and symptoms and get the most suitable medication with its individually determined dose. Our professionals will assess your mental health condition and decide whether meds are the most suitable solution.
Our certified team of mental health professionals is dedicated to providing the best prescriptions and most-suitable FDA-approved drugs to treat anxiety disorders.
Antidepressants (selective serotonin reuptake inhibitors (SSRIs) and serotonin norepinephrine reuptake inhibitors (SNRIs)) are the first-line prescription medication for most anxiety disorders. This group includes:
In severe cases, our doctors also consider prescribing benzodiazepines to manage symptoms. This group includes:
If your mental health professional determines that you require a long-term prescription drug, you can get the fastest refill from a remote location on a convenient
video call. Our clients also get access to expert advice about their medications.
MEDvidi is dedicated to delivering the best online services for treating anxiety, and we are negotiating with several insurers to become a clinic that accepts insurance soon. The commitment and devotion of the mental health experts at our organization provided to the clients and patients is unparalleled. We offer different kinds of treatment: GAD, social phobia, and other conditions are managed using medications and therapy. We also offer psychiatric services to manage your symptoms, and more. And we always make sure that our doctors and patients match well, considering the doctors' specialization, the clients' needs, and their communication. Building a trustful relationship with a mental health expert is easy and simple through our online platform.
Here is how MEDvidi works:

The process of setting up an account
at the MEDvidi website is the easiest. Log
onto our website and sign up by providing
general personal information, which will
be securely reserved. After that, you obtain
access to comfortable telemedicine resources
and benefits, such as getting prescriptions online.

This online form is essential for our mental
health professionals to know about the
mental health status of our clients. We
require you to answer a few questions
covering different areas: a brief medical
history, personal history, drug history, and
other relevant data from our clients. According
to medical requirements, our mental health
experts may also ask for medical documents
and lab reports, such as results of blood tests,
other doctors' reports, etc. Again, the
information you provide will be totally safe.

Connect to your health provider
Scheduling the video visit depends on your
time and location preferences. Anyone can
quickly get the best mental health services
online for depression and anxiety from their
home settings. Join in for the video call, contact
a mental health expert, and let them know
about your symptoms. Our doctors will devise
the best treatment plan after assessing and
evaluating the symptoms. It may include therapy, medication, mindfulness practices and meditation, counseling, and lifestyle changes, such as physical
activity, practicing mindfulness, implementing food adjustments, and more.

Get your medication prescription
After analyzing your mental health problems,
our certified experts will determine whether
the evaluation showed any problems and if
there is a need for prescription drugs,
over-the-counter meds, or any nutritional
supplements. For several types of anxiety
disorders, combining medications and
psychotherapy will be the most effective option.

Follow-up and prescriptions refills
Stay connected with the mental health
professional via phone or video calls through
the treatment. Please feel free to discuss the
progress, seek help for side effects of medications,
ask to modify your prescription if there is a specific
reason, and request fast and easy prescription refills.
Note: Our certified mental health experts can only authorize prescription refills for the treatment of anxiety depending on your symptoms and mental health conditions.
MEDvidi is among the leading platforms offering different types of treatment for anxiety disorders, depression, insomnia, stress, chronic fatigue, and other conditions. Due to telehealth services, we have huge potential to expand our care for the growing needs of our patients. We have it all covered, from the standard methods for managing anxiety disorders to the modern therapeutic interventions and the latest type of therapy.

FDA approved
prescription medication:

Evidence-based
Online Counseling:

Start the new page of your life without anxiety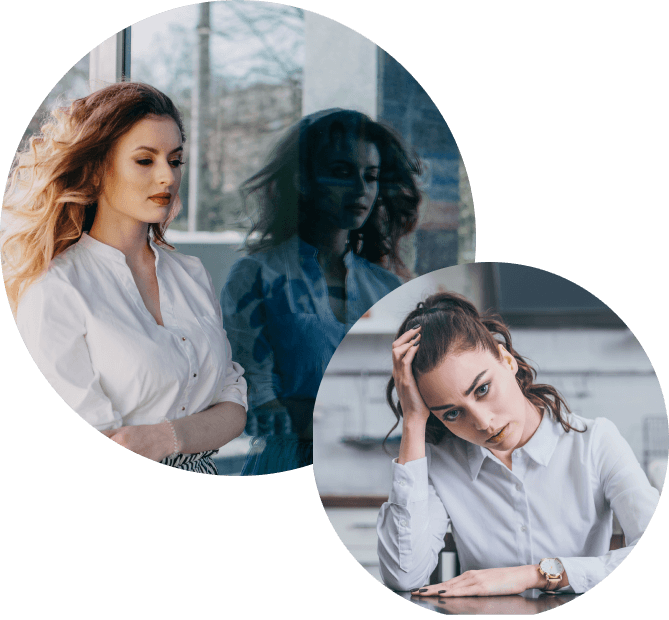 What Causes Anxiety Disorders?
Anxiety is the body's natural defense mechanism that includes emotional signs and intensified sensations, also referred to as the fight-or-flight system. It helps survive and battle fear and apprehension. However, if the symptoms are uncontrollable, extend for longer than 6 months, or make it difficult to function because of fears, it becomes a clinical disorder. It may develop because of various factors, from stress to traumas to certain personality traits and more.
There is a statement that untreated anxiety brings debilitating effects on everyday life. People are unable to work or pay attention to their chores. The symptoms may even slowly become a disability, because fear and distress may remain with someone forever in the worst case of anxiety disorder and lead to panic attacks. Anxiety intermingles with completing work tasks, chores, concentration, thinking, and even emotions.
Physical symptoms of anxiety include:
Increased heart rate
Rapid breathing
Shaking/trembling
Restlessness
Shortness of breath
Chest tightening
Sweating
Dry mouth
Weakness
Gastrointestinal issues
Psychological symptoms of anxiety include:
Feeling of nervousness
Distress
Irritability
Worry
Panic
Anxiety attack
Sense of impending danger
Trouble in concentration
Negative thought pattern
Urge to avoid the triggers of anxiety
Although anxiety disorder is a clinical medical diagnosis, experts have still not been able to figure out the exact cause. However, some experts believe that the following could be the possible causes of anxiety disorder:
Physical ailments such as heart diseases, thyroid issues, diabetes, respiratory disorder, chronic pain, and drug withdrawal can potentially contribute to anxiety and panic attacks.
People who have gone through or have witnessed traumatic events in their lifetime also tend to develop anxiety disorder later in life.
A build-up of long-term stress and excessive work overload can negatively impact a person's brain and lead to depression and anxiety.
People with certain personalities and altered behaviors are more prone to developing different types of anxiety disorders. This may include substance use, alcohol addiction, etc.
People with other mental health disorders such as depression or attention deficit hyperactivity disorder (ADHD) are more prone to develop an anxiety disorder in their lifetime.
Individuals who have a family history of anxiety disorder are at a greater risk of developing anxiety disorder themselves.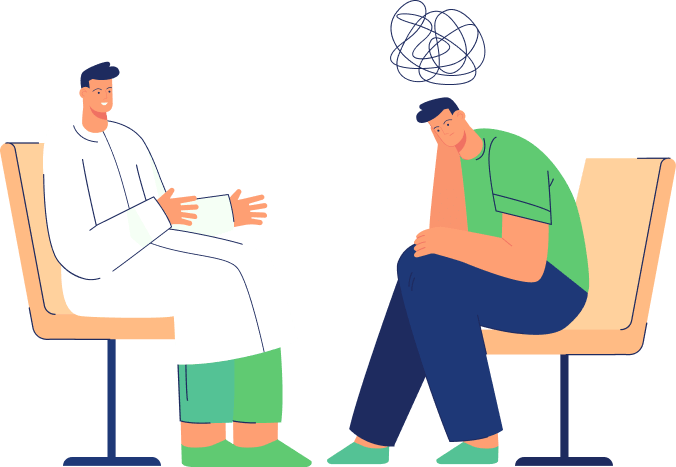 What Types of Treatment are Available?
At MEDvidi, we understand the challenges and struggles people face due to anxiety and depression. Our mental health professionals provide the gold-standard severe anxiety and panic disorder treatment. We offer the following evidence-based anxiety disorder solutions:
Affordable online therapy:
Therapy is the most common treatment for anxiety disorders. People with anxiety disorders constantly struggle with a myriad of challenging symptoms. Psychotherapies such as talk therapy, cognitive-behavioral therapy, and exposure therapy are the most effective type of treatment for anxiety disorder. At MEDvidi, we have the best online therapy programs to manage the symptoms faster and bring long-term positive outcomes.
Fast and easy online medication prescription and refills:
Medication is one of the most common options for anxiety. Our board-certified mental health professionals are dedicated to providing the most suitable FDA-approved prescription drugs based on the assessment of symptoms.
Counseling works really well for panic disorder, anxiety, and depression. Our highly-acclaimed mental health professionals provide the best online counseling through easy and convenient online video calls and chats. Counseling helps our clients battle stress and anxiety and successfully correct their negative thoughts and procrastination. Counseling is also an integral part of holistic treatment for generalized anxiety disorder.
Mental health issues like anxiety and depression have complex pathophysiologies and require high-quality treatment for managing the symptoms and challenges associated with them. We at MEDvidi believe in using a holistic approach to treat anxiety disorders. For this, our mental health professionals offer online coaching sessions and home plans, including; dietary modification, basic mental health education, lifestyle changes, incorporating exercises, progress discussions, and correcting sleep cycles. You can also learn more about self-help tips in our newsletter.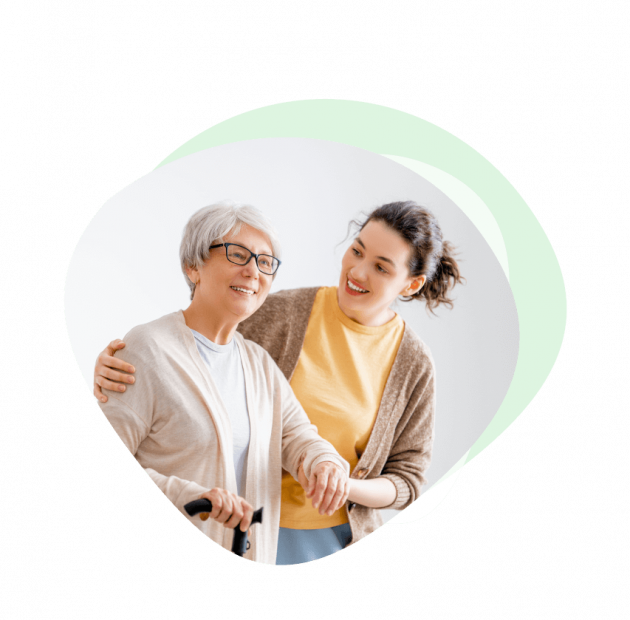 "I wasn't sure about the online treatment and prescription services for anxiety at first, but ever since I joined Medvidi, the help I received from my mental health expert has been great! They surely have the best treatment plan for generalized anxiety disorder. I have struggled with intense anxiety levels throughout my life, but the online treatment and therapy session from Medvidi has been my lifesaver. I experienced reduced anxiety from the beginning of my treatment. It is super easy and convenient to get my video visit scheduled, and the best part is it all depends on my time and flexibility."
"Wow! The feeling of peace and a stress-free mind is simply unexplainable ever since I got help from mental health professionals at Medvidi. I have been prescribed a new medicine for my generalized anxiety disorder. There has been a marked reduction in panic attacks and stress after using the meds. It is incredible how fast and easy the online prescription process is at Medvidi. My life has taken a 360-degree turn ever since I have joined Medvidi. An anxiety-free life truly is a blessing. "
"The mental health professionals at Medvidi are helping me immensely to manage my long-term symptoms of anxiety and depression. Getting online therapy and counseling appointments is very easy. The doctor responds quickly to my issues and concerns every time. I highly recommend the online treatment services of Medvidi for both anxiety and depression. My mental health is recovering very fast so far, and I'm excited to be my normal self again."
MEDvidi is one of the most affordable telehealth companies delivering the highest quality of anxiety and depression treatment services. We are overwhelmed with gratitude because of the positive response rate and the ever-growing number of clients joining MEDvidi for mental health issues like generalized anxiety disorder (GAD), social anxiety, panic attacks, and depression.
The secret to the success of MEDvidi lies in the expertise of our board-certified mental health professionals. Our mental health experts are highly qualified and fully dedicated to treating patients with anxiety disorders, depression, and a variety of other mental health issues with a successful treatment rate of more than 90% for various mental health conditions.
MEDvidi provides the highest quality online therapy, counseling, and prescription services. Our online therapy and counseling is as effective as in-patient treatment service but is much more cost-effective in comparison. In addition, 97% of our customers say that our online services for anxiety and depression are faster and more convenient than traditional walk-in therapy services.
We treat the most common anxiety disorders such as generalized anxiety disorder, panic attacks, social anxiety disorders, depression, and ADHD. In addition, patients can get access to fast online prescriptions, counseling, therapy, and coaching.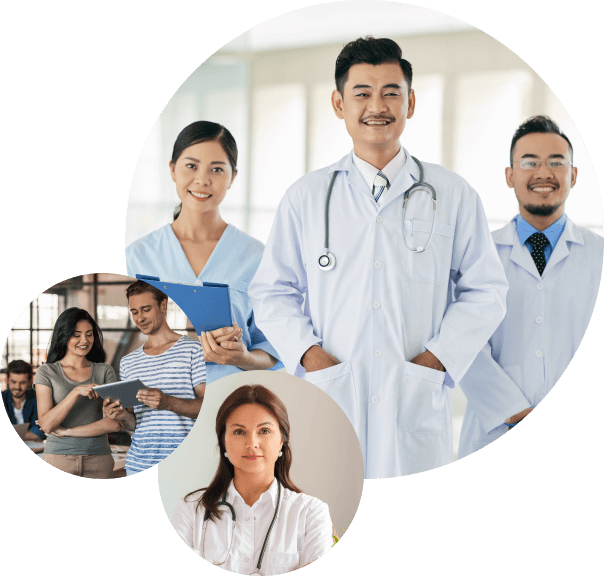 Start with our Smart symptoms checker and take
the first step to
feeling better and living better