How to Get a Prescription
Online Without Seeing a Doctor?
How to Get a Prescription Online Without Seeing a Doctor?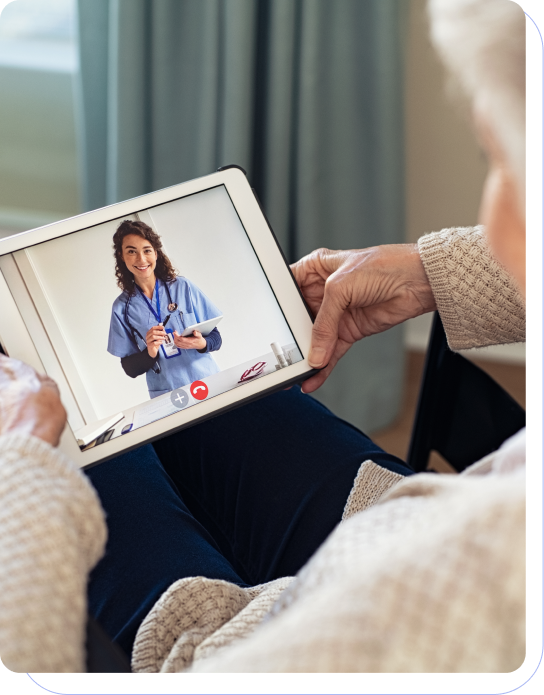 How to Get a Prescription Online Without Seeing a Doctor?
In-home prescription renewals, medication management, and new prescription requests are all now widely available thanks to telemedicine services. You can speak with a doctor and get a prescription online for any of your health issues via live video chat, phone, email, secure messaging, or a mobile app.
Still, online prescription ordering could seem difficult, and many questions may arise. How frequently should you see the prescriber? Which medications can be prescribed online? And most importantly, can you get a prescription without seeing a doctor at all? To help you resolve any concerns and tell the details and advantages of getting medications via telemedicine services, we've prepared this post. Let's get going!
Online doctor's consultation is made easy for you by MEDvidi. Click the button below to get your prescription!
What Are Online Prescriptions?
Online prescription management is one component of telemedicine — the remote delivery of healthcare services, such as tests and consultations, over the telecommunications infrastructure. Healthcare professionals can evaluate, diagnose, and treat patients using telemedicine without having to see them in person since patients can contact doctors from the comfort of their homes.
To get a prescription online, the remote patient is connected to a clinician via phone or video call to tell them about their symptoms and medical history. The call will end with the patient receiving additional advice, such as taking over-the-counter medication, filling a prescription, visiting a hospital, or scheduling a follow-up appointment, depending on the results of the clinician's assessment.
How to Get a Prescription Online?
Getting prescriptions online helps you save time and effort by quickly scheduling a virtual appointment with a doctor. Here's how to get an online prescription.
Go through an online evaluation. At MEDvidi, your journey starts with a free symptoms assessment through the SmartCare checker. It contains science-based and clinically tested questions regarding the symptoms of depression, anxiety, ADHD, and other conditions.
Make an online appointment. After an automated screening via SmartCare, you will have an appointment with a doctor to get your symptoms examined by a professional, receive a diagnosis, and obtain an online prescription if you qualify for such treatment.
Choose your delivery option. After the video consultation, the doctor will prescribe you a suitable medicine, if required for your condition. For fast delivery, they can send the prescription electronically anywhere to the pharmacy of your choice. However, you can also request a paper prescription delivered to your home or to the pharmacy by mail.
Get online counseling and medication management and monitor your recovery.
How to Get a Prescription Refill Without Seeing a Doctor?
To refill a prescription for your medication, you have to attend an appointment with a doctor licensed to practice in your state. However, you don't need to go to the hospital in-person: online visits via telemedicine services are enough for many types of medications. If the medication is "given for a valid medical purpose," you can obtain refills in almost any online clinic.
A doctor can electronically submit your new prescription to your pharmacy after reviewing your medical history and previous prescription. Nevertheless, depending on the medication you need, this won't always be feasible. Certain prescriptions cannot be refilled online due to laws and regulations. These include:
Narcotics: Oxycodone, Vicodin Percocet, Morphine
Medical Marijuana
Stimulant Medications: Adderall, Ritalin, Provigil
The number of refills you can receive per consultation varies by state laws. Whereas, in the case of the USA, the FDA stipulates that a pharmacist can fill prescriptions for up to five refills without first seeking a doctor's approval. Nevertheless, they are limited to six months from the date on the initial prescription that they were issued.
Delivery of same-day prescriptions, including drugs on Schedules 2 to 5, to the pharmacy of your choice.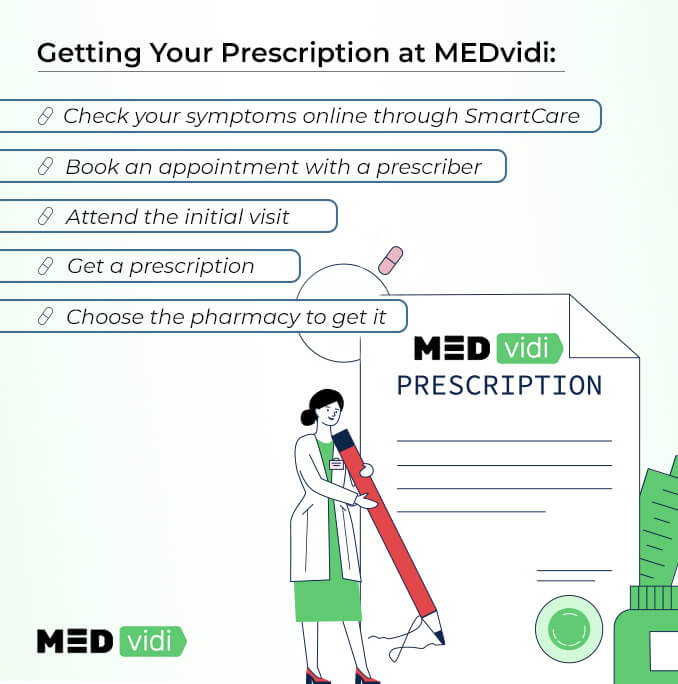 Benefits of Receiving Prescriptions Online
Numerous advantages come with ordering medications online. The following are a few ways an online pharmacy can benefit you.
Affordable prices. Most of the time, prescription drug costs are reasonable. You may compare the brand and price of prescription medications when you purchase them online without holding up the line. Additionally, the cost of generic prescription medications is typically lower than that of their branded counterparts.
Availability. You can select from a wide range of medications and brands when you purchase prescription drugs online. Even though not all pharmacies may carry your desired brand, ordering online guarantees hassle-free purchasing.
Privacy. You can keep your privacy while still getting the medication you require. Your information is kept private, making sure that no one else can see it.
Time saver. People with busy schedules and a tight routine will find it very handy to purchase their medications from internet pharmacies. It can be very time and energy efficient.
How Secure Are Online Pharmacies?
There are numerous possibilities for purchasing medicines online, so you must ensure that the site you use is safe and secure. Observe that the online pharmacy has a licensed pharmacist available to answer your inquiries to make sure you are on the correct website. You can also check the license of the chosen pharmacy using the FDA.gov website.
The website must be secure as well. Your information has to be "encrypted" using specialized techniques: they transform it into a code that is incomprehensible to others. When a website is not "secure," this implies that anyone who stumbles across the information you fill out like your address and your credit card number could read it and use it. So, refer to trusted online clinics and pharmacies, and don't hesitate to seek approval of their credibility if something bothers you.
Getting a prescription online is the best way to get the medicine you need without all the fuss. A virtual doctor's appointment enables you to minimize the disturbance to your day if you are unable to take time off from work, school, or have children at home. And although you have to attend an online or in-person appointment to get the first prescription, for many types of drugs, the prescription can be refilled a certain number of times without seeing a doctor. To arrange a consultation with an expert, get in touch with us right away.