The medications listed on this website are provided for informational purposes only. Their inclusion does not guarantee that they will be prescribed to any individual, as treatment decisions are ultimately at the discretion of healthcare providers. This list is not exhaustive, and healthcare providers may prescribe other medications, including non-stimulant options, based on the patient's unique health circumstances and needs.
Obesity is a growing problem in the modern world, with more and more people struggling to maintain a healthy weight. One way to help manage obesity is through the use of weight loss drugs, such as phentermine, which can suppress appetite and promote weight loss.
Obtaining a phentermine prescription can be a challenge for those who live in areas with limited access to healthcare providers. Fortunately, with the rise of telemedicine and online pharmacies, it is possible to get prescribed phentermine for weight loss online.
In this article, we will discuss the steps to take to get a phentermine prescription online, the cases when it is prescribed, and how to ensure that you use this medication safely and effectively.
Start your weight loss journey with MEDvidi and consult online doctors who prescribe phentermine.
Do You Need a Prescription for Phentermine?
Yes, phentermine is a prescription-only medication. This means that you must obtain a prescription from a licensed healthcare provider, such as a doctor or a nurse practitioner, to purchase and use it legally.
The reason for that is that the main component of phentermine weight-loss pills, phentermine hydrochloride (phentermine HCL), is a Schedule IV [1*] controlled substance. It has some potential for severe negative effects and a propensity for addiction. Therefore, the Drug Enforcement Administration (DEA) and international regulatory bodies strictly monitor the distribution, sale, and possession of this medication.
Phentermine Prescription Guidelines
The phentermine prescription rules may differ slightly based on your region and the specific healthcare professional writing the prescription. Typically, the prescription guidelines [2*] to get phentermine diet pills in the United States include the following:
Only a licensed healthcare provider, such as a doctor, a nurse practitioner, or a physician assistant, can prescribe phentermine.
Before prescribing phentermine, the healthcare provider should conduct a thorough medical evaluation, including a review of the patient's medical history to determine their health status.
The prescribing healthcare provider must ensure that the patient has a body mass index (BMI) of 30 or greater or a BMI of 27 or greater if other weight-related comorbidities (diabetes, raised blood pressure, high cholesterol) are present.
Phentermine is typically prescribed for short-term use [3*] of 12 weeks or less.
The starting dose of phentermine depends on the individual and can be between 15 mg to 37.5 mg, taken either before breakfast or 1 to 2 hours after breakfast.
Phentermine dosing needs to be modified for patients with renal impairment and individuals who are taking insulin.
Phentermine should be used as a part of a weight loss plan, supplemented by a reduced-calorie diet and increased physical activity.
Phentermine should not be used by individuals who have a history of certain medical conditions, including cardiovascular diseases (stroke, heart failure, arrhythmias, uncontrolled high blood pressure, etc.), hyperthyroidism, acute agitation, glaucoma, or a history of drug abuse.
Phentermine is not recommended to be taken in conjunction with other weight-loss medications.
Phentermine should be used with caution in individuals with a history of mental illness, including depression or anxiety.
Phentermine is not recommended for use during pregnancy or while breastfeeding.
What Doctors Can Prescribe Phentermine?
Since phentermine is a controlled substance, it can only be prescribed by a qualified medical professional authorized to do so in your state. The next medical providers can prescribe this weight loss medication:
Bariatricians
Endocrinologists
Primary care physicians
Psychiatrists
Family doctors
Nurse practitioners
Physician assistants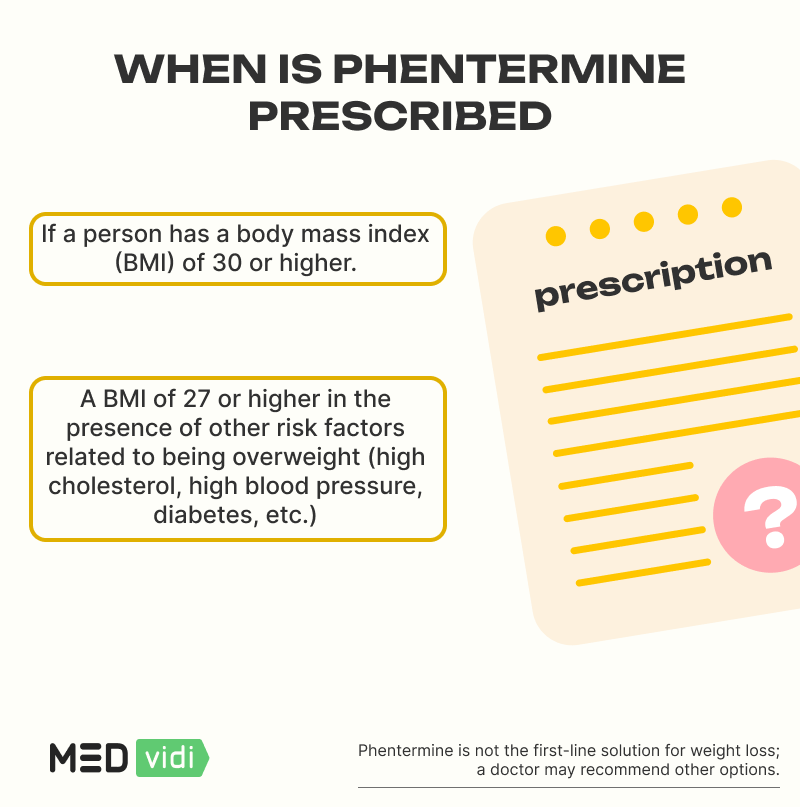 How to Get an Online Phentermine Prescription?
To obtain a phentermine prescription online, you must take the following steps:
Schedule an online appointment with doctors in online weight loss clinics who prescribe phentermine in your state.
If scheduling through a telehealth platform, you will be asked to register an account and finish a health questionnaire to book a visit. You will be required to disclose details regarding your weight and height for BMI calculation, your medical history, present medications, past allergies, and other pertinent information.
During an online appointment, share the details of your health situation, learn about the most suitable weight management options for you, and discuss your preferences and concerns.
If, following a comprehensive evaluation, the medical professional decides to prescribe phentermine online, they will tell you all the intake requirements, advantages, potential side effects, and any additional recommended interventions. Afterward, they forward the prescription to an authorized drugstore that can fill the order.
Follow up with a healthcare provider regularly to monitor your progress in taking phentermine for weight loss, as well as to address any potential side effects.
See an online doctor to have a consultation about phentermine and get phentermine weight loss pills or an alternative.
What to Ask a Doctor to Prescribe Phentermine?
When wanting to ask a doctor for phentermine and specific prescription medication, it's important to approach the conversation in a respectful and informed way. Here are some tips to keep in mind:
Be honest about your health and goals for losing weight. Tell your doctor why you want to take phentermine, whether it's to improve your health or boost your self-esteem. Since you can get phentermine prescribed from a doctor only if you fall under certain criteria, you may be recommended another treatment option that will better suit your goals.
Share your past experiences. Be sure to inform your doctor if you've previously attempted alternative approaches that didn't help you to lose weight. This may make it clearer if you require phentermine.
Ask questions. Ask any questions about the mechanism of action of phentermine, possible negative effects, or any other issues. Due to this, you will feel more at ease and knowledgeable about the drug.
Be open to other possibilities. While you might be eager to try phentermine in particular, it's crucial to be receptive to other weight-loss solutions your doctor may suggest in light of your health history and present condition.
Trust your doctor's expertise. Ultimately, your doctor is the expert and will offer the best advice for your particular circumstances. You should respect their opinion and seek out alternatives if they do not believe that phentermine is the ideal solution for you.
Rules and Regulations for Phentermine Telemedicine Prescriptions
Telemedicine prescriptions for phentermine are subject to specific rules and regulations to ensure the safety and efficacy of the medication. While telemedicine laws in the US may vary by state [4*] and are subject to change, there are some common requirements and guidelines for weight loss doctors who prescribe phentermine online and their patients.
Licensure. To provide telemedicine services and prescribe phentermine online, a weight loss doctor must hold a valid medical license in the state where the patient is located. Some states offer unique licenses or certificates for telemedicine providers.
Informed consent. Patients must be informed of the advantages and limitations of the telemedicine services they receive. Patients have to be informed that sometimes, an online consultation may not be enough to get a phentermine prescription.
Privacy and security. Telemedicine providers must meet all applicable federal and state requirements for patient privacy and security. Providers must use secure platforms for telemedicine services and must take steps to protect patient information.
Standard of care. Telemedicine providers should ensure the same level of care as practitioners in walk-in clinics. The patient must be thoroughly evaluated by the healthcare provider, who must also develop a treatment plan and track the patient's progress.
Prescribing requirements. Some states have specific requirements for telemedicine prescriptions, including a prior in-person examination, limitations on controlled substances, and special rules for documentation and record-keeping.
Insurance coverage. Many states require insurance providers to cover telemedicine services like they cover in-person ones. Some states also have specific telemedicine reimbursement codes.
Note that telemedicine laws and regulations can change, and it is important to stay up-to-date on the requirements in your state. Working with a licensed healthcare provider is important to ensure safe and effective telemedicine services that follow all applicable laws and regulations.
Consult a doctor at MEDvidi to know if you need a phentermine prescription.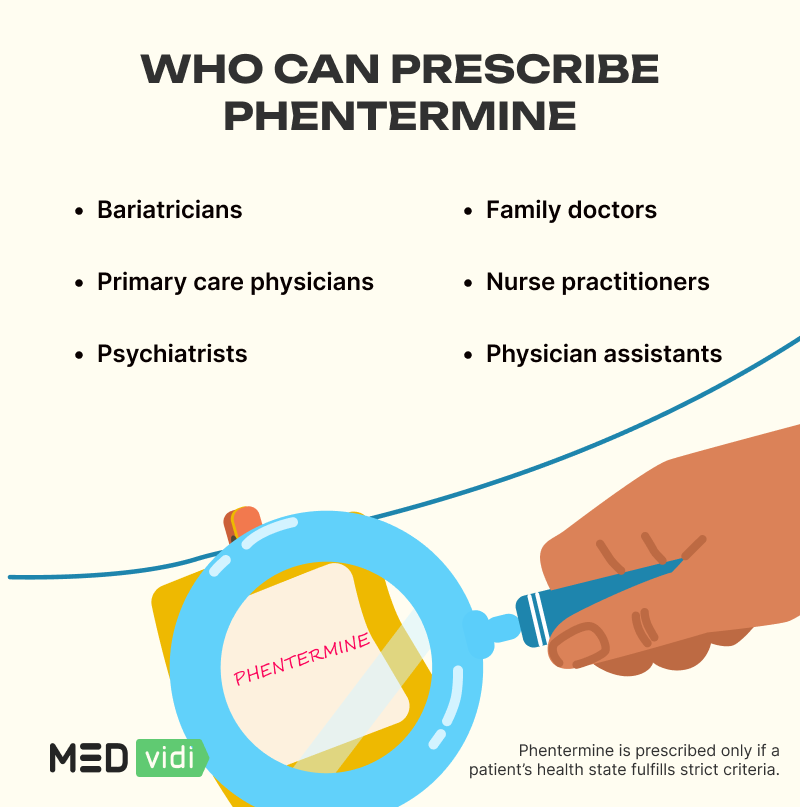 DEA's Proposed Rules on Prescribing Controlled Substances Online
The COVID-19 pandemic's public health emergency (PHE) that was issued in 2020 expired on May 11, 2023. PHE introduced various flexibilities, including simplifying the process of receiving prescribed controlled medications like phentermine, Adderall, Xanax, Ritalin, etc. via the internet. Patients could purchase certain medications with low abuse potential after consulting with online doctors without the need for in-person visits throughout their treatment.
This rule is going to be altered by the new regulation for patients who start receiving care online on November 11, 2023, or later. An in-person physician appointment and referral letter will be obligatory if you need an online prescription refill for controlled substances like phentermine after the initial 30-day supply. Following an evaluation, you will receive a doctor's referral that will enable you to keep receiving your prescriptions through telehealth.
It can be a convenient and efficient way to get phentermine from a doctor online and start or continue your weight loss journey. To ensure that you receive the medicine securely and legally, you must, however, take the required precautions. Note that phentermine should only be used in conjunction with a healthy diet and regular exercise, as well as under the supervision of a healthcare provider.
Frequently Asked Questions