The medications listed on this website are provided for informational purposes only. Their inclusion does not guarantee that they will be prescribed to any individual, as treatment decisions are ultimately at the discretion of healthcare providers. This list is not exhaustive, and healthcare providers may prescribe other medications, including non-stimulant options, based on the patient's unique health circumstances and needs.
Telemedicine has made medical urgent care more accessible and simpler to get. Everything you need, whether it be online medications or consultations, is just a click away. That applies to the treatment of different mental health conditions, including attention deficit hyperactivity disorder (ADHD). If you have ADHD and are having difficulty with focus, time management, and organization, it may be necessary to seek prescription ADHD medications, such as Adderall.
Adderall contains a combination of four amphetamine salts: dextroamphetamine saccharate, amphetamine aspartate, dextroamphetamine sulfate, and amphetamine sulfate. It helps to regulate attention, focus, and alertness. This medication can improve cognitive function and reduce hyperactivity and impulsivity in individuals with ADHD.
From this post, you'll know how to receive an Adderall prescription online.
Discuss obtaining an Adderall prescription with a licensed medical specialist. Click here for assistance.
Do You Need a Prescription for Adderall?
Adderall is a controlled substance [1*] , meaning it has a high potential for abuse and can lead to addiction. Therefore, you can ask for Adderall legally but make sure the medication you are taking is safe. Buying drugs from unreliable internet sources can be risky because the drugs might be fake or contaminated, which would be extremely harmful to your health, as well as the likelihood of such sources being unapproved or lacking necessary certifications.
Adderall can be unsafe when it is obtained and used without a prescription or when it is sold or distributed illegally. It can also be harmful when used improperly, even with a prescription. For example, if a person takes more than the prescribed dose or shares their medication with someone else, they are breaking the law and could face legal consequences.
It's neither recommended nor legal to take Adderall without a prescription or without consulting a qualified healthcare professional. If you believe you may benefit from Adderall, it's important to find a doctor and talk to them about your options.
How to Get an Adderall Prescription?
To obtain a prescription for Adderall, you should make an appointment with a licensed healthcare provider, such as a doctor or a psychiatrist. They will evaluate and determine if you need this medication based on your symptoms, medical history, and other factors. If they determine Adderall is appropriate for you, they may prescribe it and provide instructions.
Reasons to Be Prescribed Adderall
Individuals are prescribed Adderall to help manage their symptoms of ADHD. Adderall is a stimulant medication and it works by increasing the levels of dopamine and norepinephrine in the brain. These neurotransmitters play a key role in regulating focus, attention, and impulse control.
People with ADHD often have imbalances in these chemicals, which can contribute to their symptoms. By increasing the level of norepinephrine and dopamine, Adderall can help improve focus and concentration, reduce restlessness, and help control impulses better, among other effects.
In addition to ADHD treatment, Adderall may be prescribed for narcolepsy. It is a neurological disorder that makes a person feel drowsy during the daytime or fall asleep unexpectedly because of the impaired ability to control the sleep-wake cycle. Since Adderall affects the levels of norepinephrine in the brain, it helps to boost wakefulness and thus manage narcolepsy.
Who Can Prescribe Adderall?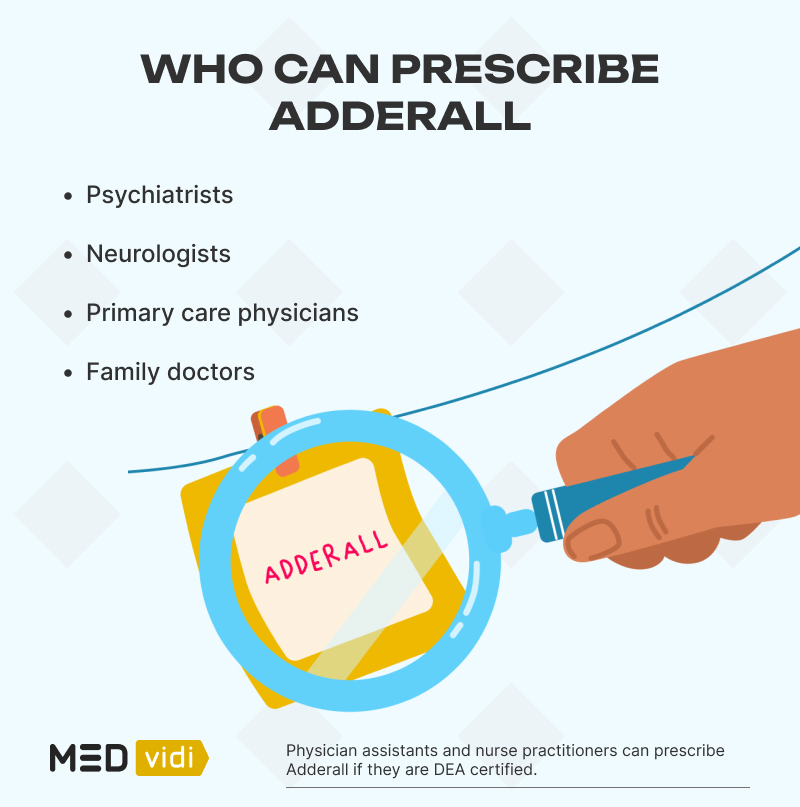 Adderall is a controlled substance that the federal government regulates. There are specific regulations regarding prescribing controlled substances, including Adderall, that doctors must follow to ensure the safety and well-being of their patients. That is why in the United States, only those healthcare providers registered with the Drug Enforcement Administration (DEA) [2*] can prescribe this medication. These professionals include:
Medical Doctors (MDs)
Psychiatrists
Primary care physicians
Neurologists
Family physicians
Other healthcare professionals may also be able to prescribe Adderall provided they possess the required credentials.
Doctors of osteopathic medicine (DOs)
Nurse practitioners (NPs)
Physicians assistants (PAs)
Prescribing Adderall requires careful evaluation of the patient's medical history, symptoms, and any potential risks and side effects associated with the medication. Doctors must ensure the safety and well-being of their patients.
It is also important to note that the rules and regulations regarding who can prescribe ADHD medication vary by state or country, so it is best to consult a licensed healthcare professional in your area for more information.
Get an Adderall prescription online from ADHD professionals at MEDvidi.