With the rapid advancement in telehealth services, everything is made easy. One of the most promising telehealth services is online therapy or E-therapy. It includes psychological help, online counseling, and other assistance delivered via computer, smartphone, or tablet.
Virtual therapy via online platforms is trending due to its effectiveness, convenience, and affordability. However, despite its enormous benefits, online counseling is not for everyone. Below is a brief run-down on the benefits, usage, and services of online therapy. So let's dive in!
Don't hesitate to get mental health help. Connect with the best online therapists with just one click!
Is Online Therapy as Effective as In-person?
The last few years have shown that online therapy can be as effective as in-person counseling. Many people with limited options benefit from the convenience of virtual treatment from home as online therapy offers mental health support from anywhere in the world. Texts, phone calls, emails, or video services are examples of online treatment. Virtual options may be offered directly by therapists through their practice, but individuals can also use online platforms to connect with the needed professionals.
Benefits of Online Therapy
Compared to traditional in-person therapy, the effectiveness of online counseling is rapidly increasing. There are numerous reasons why clients prefer online therapy, the most prominent are listed below.
Easy access. Your appointment via virtual services is just a click away. Many people struggle to find good therapists or health practitioners in their relative areas. The Internet makes it easy for you to connect with the best health professionals. You are all welcome to seek therapy whether you live in the city or the country. Physically disabled people who can not reach a counselor can benefit from such a form of treatment.
No embarrassment. Despite all the advancement and focus on dealing with mental health issues, still, in some areas, it is taboo, or people consider it socially embarrassing to get help for their condition. Online psychotherapy saves them from being uncomfortable or embarrassed because they can discuss their issues without even disclosing their identity.
Cost-effectiveness. Many online therapy platforms offer services at lower prices than in-person sessions. Also, when you do mental health counseling virtually, you don't have to worry about things like gas, subway fare, bus fare, or taxi fare. You don't have to move around to get to a clinic on time because you can do therapy from any place.
Confidentiality. When patients talk to a therapist, the first concern is confidentiality. It is somehow difficult for the patients to trust others for what they are sharing. Confidentiality is the main point of concern in mental services. While seeking help from an online therapist, patients feel more comfortable and secure sharing their inner conflicts and problems.
Mental health services are made more accessible via MEDvidi. Just a click away!
Mental Health Online Services
When selecting an online treatment service, keep your mental health needs in mind. Insurance coverage, cost, and session options (such as chat, phone call, or video) are some of the important aspects you can check to choose the best online professional counseling service for your specific requirements and way of life.
MEDvidi is one of the leading platforms for mental help online, which comes with a lot of advantages. At MEDvidi, we provide personalized treatment plans according to the needs of our clients. Moreover, our team consists of qualified and best health providers. MEDvidi is your ultimate destination if looking for the best virtual consultation.
Click for the best accessible and affordable online therapy and counseling services.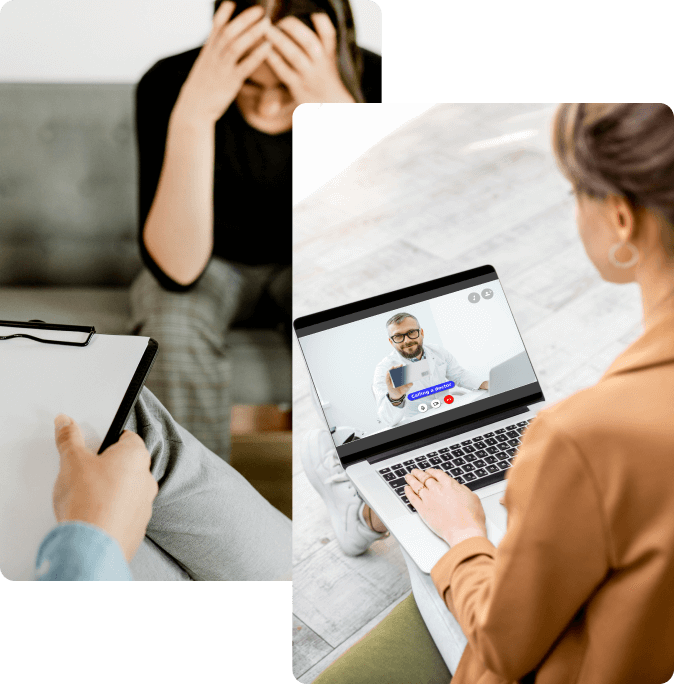 How Much Does an Online Therapy Cost?
An hour-long therapy session can cost anywhere from $65 to $250, depending on your therapist's experience, location, and training. However, you can find free therapy through non-profit organizations, universities, social services, financial assistance programs, and employee assistance programs.
Mental health issues should never be overlooked. There is nothing embarrassing about seeking help if you are stressed, anxious, or depressed. Ignoring the problem or believing it will go away on its own might exacerbate the condition. At MEDvidi, we provide an integrated treatment approach and online therapy that includes extensive examinations, tailored treatment, and care continuity. Our staff has a diverse set of skills and backgrounds to help you overcome any mental health struggles you may be going through.