With the growing advances of the modern world, where things are expected to be more convenient and easy, unfortunately, the downside is the increased number of mental and emotional problems.
According to the experts, one in every five individuals struggles with mental health issues at some point in their lives. The goal is to find a therapist that is best and most affordable for you, but it can become highly overwhelming.
Keep reading to learn about the quick and easy tips to find the therapist for you and develop a deep understanding of various aspects of therapy.
Get access to the certified therapist instantly.
Therapist Vs Psychiatrist Vs Psychologist
For most people, all the three terms, therapist, psychiatrist, and psychologist, can be confusing because these are often used interminably. All three types of professionals work to treat and manage mental health issues. But although there are many similarities between the terms because all these professionals work to treat and manage mental health issues, these are distinct professions.
The table below summarizes the comparison between them:
Therapists

Psychiatrists

Psychologists

Therapists are certified professionals for delivering various mental health and behavioral services.

They are required to have a master's degree with complete practice in their field.

Therapists provide both diagnosis services as well as treatment plans.

These professionals primarily use cognitive-behavioral therapy, exposure therapy, etc.

A psychiatrist is a certified professional who offers diagnosis, treatment, and prevention of various conditions such as developmental abnormalities, mental health issues, and physical effects.

Psychiatrists are physicians with a medical degree.

Psychiatrists can give prescription medication, offer to counsel and perform various therapeutic interventions.

A psychologist is a specialized professional in human behaviors and mental health issues.

A psychologist helps people with their behavioral patterns, cognitive processes, and social interactions.

The most common types of therapies offered by psychologists are psychotherapy and talk therapy.
Should I See a Therapist or Psychologist?
Both therapists and psychologists are certified mental health experts and provide their best mental health services, so the choice is up to you. Look for the specialties and certifications of various professionals and compare treatment costs. Choose either one you feel more comfortable with. Taking a trial treatment can also help decide which one to choose.
What Are the Different Types of Therapists?
Therapists can transform people's lives. Reviewing the below list of some common types of therapists can help you decide on the most suitable option. The term 'therapists' is very broad and includes different subcategories for people with different needs.
| Therapist | Speciality |
| --- | --- |
| Marriage counselor | Addresses behaviors and issues regarding marriage with individuals and families. |
| Addiction therapist | Helps to deal with substance and drug overuse. |
| Behavioral therapist | Works with deviating behaviors and mood disorders. |
| Divorce therapist | Help people overcome issues and struggles of marriage and divorce. |
| Cognitive-behavioral therapist | Uses cognitive-behavioral therapy (CBT) to help clients overcome mental health issues. |
| Child therapist | Helps children with cognitive, behavioral, and emotional disorders. |
| Nutritional counselor | Offers dietary recommendations and observes eating patterns. |
Therapy is the ultimate option for all your mental health issues. Get instant consultation and fast-acting treatment plans from our therapists.
How Do I Find a Therapist?
According to the experts, the connection between a therapist and a patient has a significant impact on the outcomes of therapy and recovery. Hence, it is crucial that you find a therapist that best suits you in every way.
Use our easy and fast working tips:
Consult your general physician. If you are going for therapy, your general physician can recommend you a therapist that suits your goals and issues.
Ask trusted people. Your close family and friends can help you find a therapist that is affordable and certified.
Utilize searchable databases. Online mental health organizations can provide authentic and licensed therapists' services.
Explore community resources. Your local and community resources can also help you choose a therapist according to your needs.
Reach out to specific mental health organizations. If you want a therapist that specializes primarily in your mental health issue, then look for particular organizations that are dealing with that issue and provide therapy services.
Consider your realistic goals to decide on a therapist. According to the research [1*] , when both therapists and patients work on specific, realistic goals, they can get better results.
However, you get more than just a traditional walk-in therapy and can opt for online therapy treatment.
With such an option, finding the best therapist won't be overwhelming; just click the link below to connect with our certified professionals and save your money and time.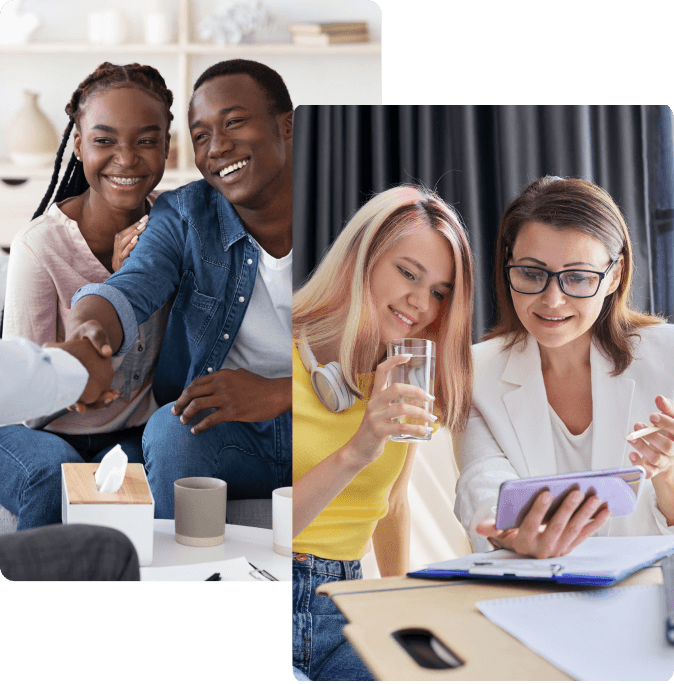 Online Therapy Vs. Traditional Therapy: an Overview
Since online therapy is a relatively new solution, many people are not aware of the numerous benefits it brings. Below, we compare the main aspects of online and traditional approaches, so you can see the exact advantages.
Online Therapy

Traditional Therapy

Works on patients' mental health issues, preferences, and goals.

Virtual therapy through audio and video calls.

Less exposure to risk factors.

Flexible with time.

No commute expenses.

Convenient for every patient.

Works on patients' mental health issues, preferences, and goals.

Patients have to visit the clinical setting.

More exposure to risk factors.

Timing is not flexible.

Have to pay for commuting expenses.

Not convenient for every patient; for example people living in a remote location or with limited mobility.
How Much Does Therapy Cost?
Therapy cost varies from patient to patient due to many factors such as; different diagnoses, different duration of treatment, and intensity of symptoms. The average therapy cost in the U.S. ranges from $100 to $200 per session. However, you may discuss the cost plan with your therapist before the first therapy session to find the most suitable option.
How to Find a Therapist Online?
Step 1: Join an online telemedicine platform, like MEDvidi.
Step 2: Fill out the initial assessment form and provide your documents and symptom details .
Step 3: Connect with a licensed therapist online.
Step 4: Get a legit diagnosis and treatment plan.
To find a therapist that suits your financial and mental health aspects try the above-listed methods. There are various types of therapists and you can choose the most fitting experts and professionals according to your requirements and goals. MEDvidi offers the best therapy services in the United States with fast recovery interventions at the most affordable rates.