Persistent anxiety can significantly disrupt your daily life. Therefore, treatment is recommended to keep it at regular levels. For this purpose, a combination of therapy and medication is widely used. And in this article, we'll observe one commonly prescribed medication, Sertraline.
Sertraline is an antidepressant sold under the brand name Zoloft. It is used to improve anxiety symptoms related to sleep, mood, energy levels, and appetite. Doctors recommend Sertraline for anxiety because it may help you regain interest in regular activities and lessen fear, unwelcome thoughts, and panic attacks. However, apart from advantages, it also has drawbacks, such as side effects. So, keep reading to know more!
Connect to MEDvidi to get your anxiety meds from certified doctors.
What Does Sertraline Do for Anxiety?
Sertraline is a selective serotonin reuptake inhibitor (SSRI). It works by preventing serotonin from entering cells, which raises its extracellular levels. This is thought to improve mood, eating, and sleeping patterns.
Serotonin itself is a neurotransmitter and a natural mood stabilizer. And since Sertraline influences serotonin levels, this medication has been used to treat moderate to severe depression, panic attacks, generalized anxiety disorder, and obsessive-compulsive disorder because of its tendency to elevate your mood.
How Long Does Sertraline Take to Work for Anxiety?
Sleep, energy, or appetite improvements are some of the first indications that Sertraline is working. Although it often takes 4 to 6 weeks before you get the full benefits, you can notice a change in your symptoms after 1 or 2 weeks. Many people observe an improvement in their anxiety symptoms over time, and others may finally have no symptoms at all.
Sertraline Dosage for Anxiety
Zoloft tablets are available in 25 mg, 50 mg, and 100 mg dosages. The oral solution is available at 20 mg/ml.
For patients with social anxiety typical dosage starts at 25 mg. It is permitted to increase the dose weekly by 25 to 50 mg up to 200 mg for patients who do not react to the lower doses.
Pregnant or nursing mothers should discuss the risks and benefits of taking Sertraline with their doctors as it might put the child at risk.
Only a licensed doctor can prescribe you the right dose of your medication according to your symptoms.
Side Effects of Zoloft/Sertraline
You may experience side effects after using Sertraline for the first time. The most common ones are the following:
Dizziness
Reduced appetite
Diarrhea
Nausea
Dry mouth
Fatigue
Difficulty sleeping
Restlessness
As your body adjusts to the medication, side effects may become less noticeable over time.
Warnings and Contraindications
Sertraline is approved by the Food and Drug Administration (FDA) for depression, OCD, social anxiety, panic disorder, and PTSD. However, the FDA gives its black box warning [1*] to Sertraline. It means that this antidepressant is linked to an elevated risk of suicidality in children, adolescents, and young adults. So, Sertraline users aged 25 and below should be closely watched.
To prevent any negative consequences from Sertraline use, discuss the following with your doctor:
If you are allergic to any medication.
If you have taken MAOIs in the last 14 days.
If you have a liver problem.
If you consume alcohol.
If you suffer any side effects, speak with your doctor to modify your treatment strategy.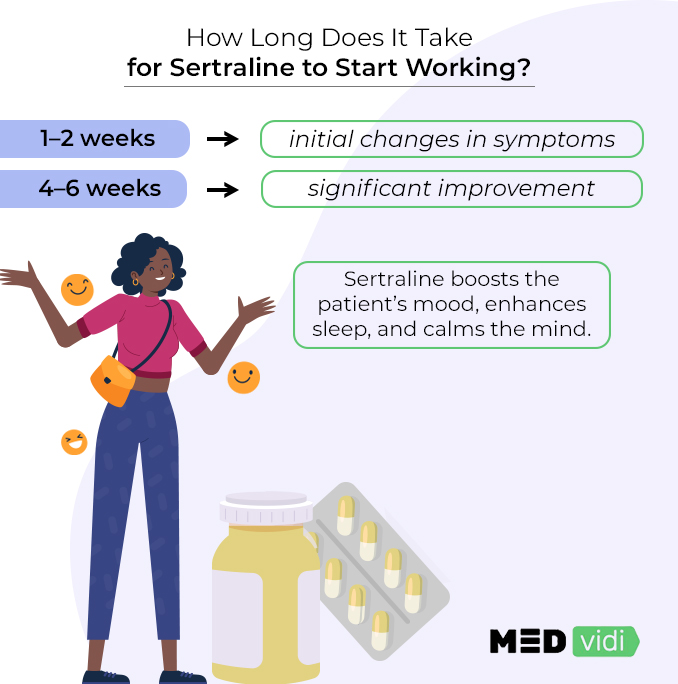 Alternative to Sertraline for Anxiety
What works for one individual might not function for another. Your doctor is the best person to ask about which anxiety med will work best for you. If Sertraline does not bring the needed effect, your prescriber may decide to replace it with one of the following medications:
Effexor XR (Venlafaxine ER)
Lexapro (Escitalopram)
Prozac (Fluoxetine)
Paxil (Paroxetine)
Xanax (Alprazolam)
Celexa (Citalopram)
Many medical professionals recommend Sertraline for anxiety and it has been proven to be effective. But, any medication is only prescribed by the doctor for each patient's needs individually. If you are experiencing the signs of an anxiety condition, get in touch with a doctor at MEDvidi right away to get a customized treatment plan.