In an era where burnout and stress are common, understanding the significance of mental well-being has become crucial. Mental health days serve as a beacon of self-awareness, promoting self-care and emphasizing the importance of our balanced psychological and emotional state.
Consequently, the concept of taking an occasional mental health day has become a subject of great significance, and for a good reason. Let's delve into its meaning, benefits, and the signs that indicate the need for one.
Prioritize your physical and mental wellness by booking an appointment with an experienced mental health professional today.
What Is a Mental Health Day?
The World Federation for Mental Health started World Mental Health Day in 1992. Now, the World Health Organization also supports it, and it is celebrated every year on October 10th. The day helps people understand the importance of mental health better and makes talking about it easier. It motivates everyone to care more about their psychological health and provides a respite from mental and emotional stress.
Benefits of a Mental Health Day Off Work
In our relentless pursuit of professional achievements and personal commitments, the importance of mental well-being often takes a backseat. However, occasionally pressing the pause button to prioritize our mental health can offer a lot of benefits [1*] , both tangible and intangible. Here's a closer look at the advantages of taking mental health days:
Improved mental well-being. A break from daily stressors aids in reducing anxiety and depressive symptoms.
Enhanced productivity. A rested mind [2*] often results in increased efficiency and better decision-making capabilities upon returning to work.
Physical health boost. Reduced stress can have positive effects on physical state, including better sleep [3*] and a stronger immune system.
Perspective gaining. Distance from daily chores provides a clearer perspective on personal and professional challenges, enabling more informed decisions.
Signs That You Need to Take a Mental Health Day
Just as our bodies show signs of physical fatigue or illness, our minds too exhibit signals when they're feeling overwhelmed or strained. Let's explore some key indicators that suggest it might be time for you to take a mental health day:
Mood changes. If you notice consistent mood fluctuations, like increased sadness or feelings of hopelessness, it may be time for a break.
Focusing is hard. Constant distractions, an inability to concentrate, or tasks seeming more challenging than usual are signs that your brain could use a rest day.
Sickness won't stay away: When mental stress builds up, it can start to manifest physically. Regular fever, headaches, digestive issues, or other unexplained ailments might be your body's way of signaling the need for a mental break.
You get angry easily. Increased irritability or having a short fuse, especially over trivial matters, suggests that your emotional reservoir might be running low.
Lack of enthusiasm. If things that once excited or motivated you no longer do, or if there is a general feeling of detachment from your environment or apathy, it might be time to step back and introspect.
Experiencing prolonged mental distress and stress levels? Connect with our professionals for personalized care and understanding.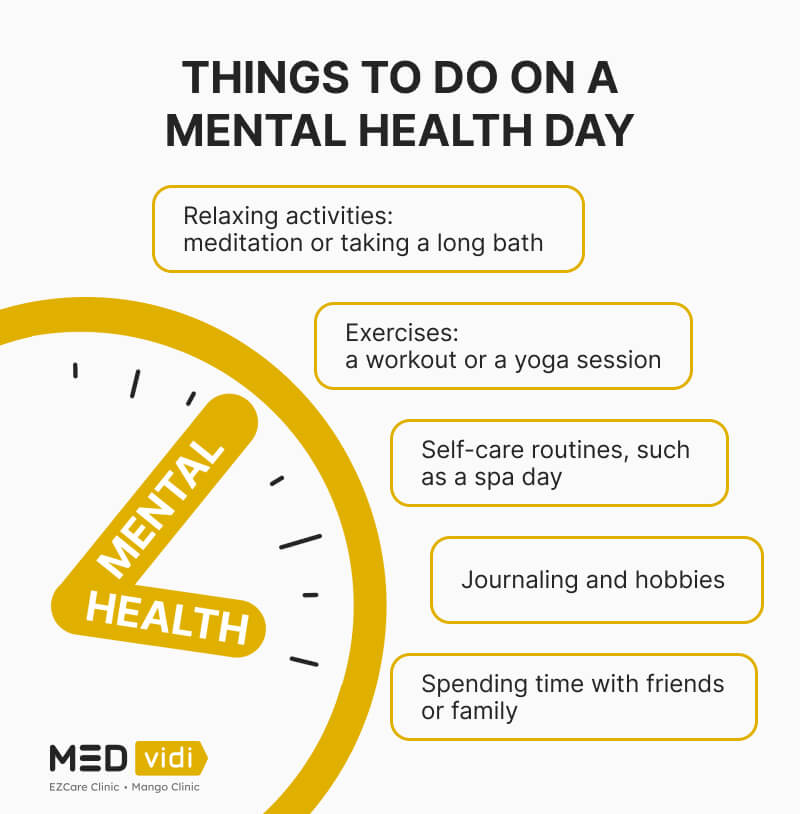 How to Take a Mental Health Day
Taking a mental health day is more than just staying away from work. It is about making a conscious decision to prioritize your mental health. Start by selecting a day that will cause minimal disruption to your work schedule. Communicate with your employer and explain your need for a day off for mental health reasons without guilt. Lastly, plan your day to ensure you make the most of this mental health break. Below, you will find several helpful ideas.
How to Spend Your Mental Health Day
The purpose of a mental health day is to address your psychological needs. Research [4*] exploring various detachment dimensions found that cognitive detachment after work correlates with cognitive health; emotional detachment relates to emotional well-being, and physical detachment is linked with physical health. Here's how you can tailor your day:
If you need to relax: Consider calming activities according to your preferences, such as meditation, taking a long bath, reading a book, or listening to soothing music.
If you need physical movement: Incorporate exercises or other physical activities into your day. Whether it is a brisk walk, a yoga session, a workout at the gym, or a dance class, getting your body moving can elevate your mood and boost your recovery [5*] .
If you need some fun: Engage in activities that may uplift your spirit. This could mean watching a comedy, painting, dancing, or spending quality time with friends or family.
If you need to make some changes: Use this time to reflect on aspects of your personal life that need alteration. This might involve journaling your thoughts, seeking advice, or laying out a plan for the future.
If you need more personal days: Perhaps it is time to consider a vacation or a sabbatical. Research destinations or experiences that would provide a longer respite from your routine.
If you want to engage in self-care: Whatever your needs, ensure that self-care is at the forefront. This might mean a spa day, an afternoon nap, or even seeking professional counseling.
What to Do When Taking an Occasional Mental Health Day Is Not Enough
If you find that a single day away does not alleviate your feelings of overwhelm or stress, it may be indicative of deeper-rooted mental health issues. In such cases:
Consider talking to a doctor for a better understanding of the underlying cause and longer-term therapy or counseling.
Engage in regular self-care activities, not just on specific days.
Contemplate major life changes that might contribute to a more sustainable sense of welfare.
Addressing your mental illness is crucial; MEDvidi is here to help you every step of the way.
Bottom Line: World Mental Health Day
World Mental Health Day is an initiative to raise global awareness about mental health issues and mobilize support for mental health care. It serves as a reminder of the collective responsibility we share in fostering a world where mental wellness is universally prioritized and where everyone has access to the care they need.
Recognizing the need for and effectively utilizing such days can help you maintain your overall health and happiness. If you think days off are not enough, reach out to MEDvidi, and our licensed healthcare providers will assess your mental health and help you improve the quality of your life.